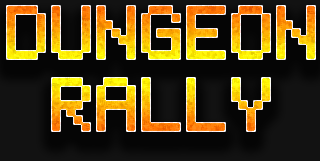 Dungeon Rally
This is a pre-release version of the game. There will be bugs and the balance is still very off. Please follow @slothwerks on Twitter for development updates.
Discuss the game here.
NEW VERSION! Jan 25 2014
Simplified / cleaned up mechanics to make the game more understandable and easier to play.
Defend your town in this unique blend of tile matching, deck building and RPG gameplay. Collect gold to bolster your ranks with powerful weapons, heroes, and items and defend your town from the enemy onslaught.
Tips
This is a high score game -- every game will eventually end in death. The goal is to get as high a score as possible.
Collect gold. The key to the is to buy an efficient mix of tiles to better defend against enemies. Gold collected each turn can be spent at the merchant to load your inventory (deck) with more powerful tiles.
Combat is based around the concept of combat skill. If your combat skill is greater than or equal to your opponents, your hero is victorious. You take damage equal to the enemy's 'Damage' attribute (indicated by a small graphic on the lower left of the enemy)
Early on, buying more efficient gold tiles, such as the silver coin and gold coin, will help to purchase even more powerful tiles later on.